Amputee Essentials Prosthetic Lubricant, 12 oz Spray Bottle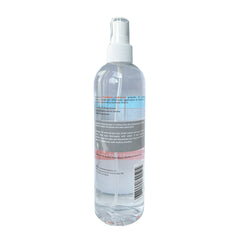 Prosthetic Lubricant Description
Amputee Essentials Resilience Prosthetic Lubricant spray is a 65% Ethanol Alcohol based prosthetic lubricant formulated with silicone to ease the application of non-fabric covered and seal-in prosthetic liners onto your residual limb. Prosthetic Lubricant provides the perfect amount of slip to the most stubborn and sticky liners. If you ever attempted to roll-on a prosthetic liner without lubricant liner spray, it most likely ended in complete frustration and you having to pull versus roll-on your prosthetic liner. Rolling on your prosthetic liner helps avoid wrinkles and air from being trapped inside—which causes excessive perspiration—and prevents skin irritation along the top edge of the liner from a pulling affect. Prosthetic Lubricant liner spray eliminates any tackiness and simplifies donning and doffing, while also deodorizing.
Benefits
Amputee Essentials Prosthetic Lubricant is an absolute must for applying  prosthetic liners that do not have a fabric outer layer.
Prosthetic Lubricant spray prevents silicone or gel material from sticking to itself when rolling on a prosthetic liner
65% Ethanol Alcohol
Deodorizes and is quick drying
Easy to pump sprayer
Lubricating formula eases prosthetic liner application
12 fl oz prosthetic liner spray bottle, sold each
Suggested Use
Some prosthetic liners are manufactured without a fabric cover adhered to the outside gel or silicone surface. If you wear a prosthetic liner without a fabric covering it's necessary to apply a prosthetic liner spray to allow the outside surface to slide on itself when rolling your liner onto your residual limb.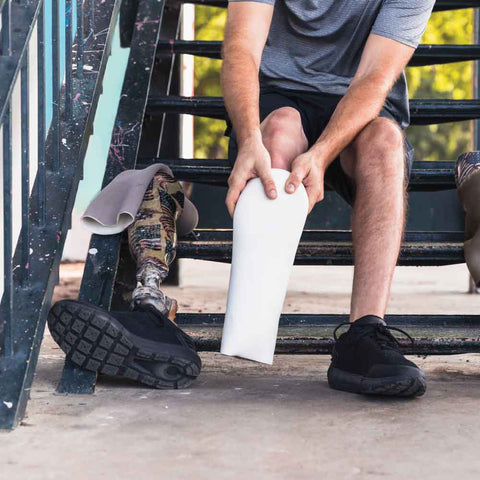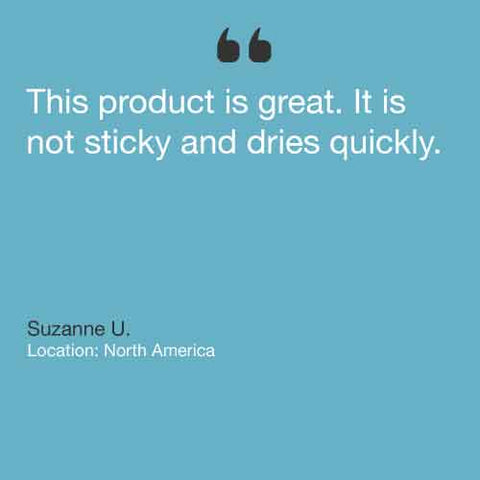 How-to Apply
To apply Amputee Essentials Prosthetic Lubricant spray you must first reflect your non-fabric liner inside out. Then spray a moderate amount (2-3 sprays) of prosthetic lubricant to the inside (actually the exterior liner surface) of your reflected liner. Now you can simply roll your prosthetic liner on with ease. If you use more than 3 sprays of prosthetic lubricant you may want to have a towel handy.
Have product questions? We're here to help!
Chat
Features & Details
Amputee Essentials Prosthetic Lubricant Ingredients
Ethyl Alcohol, Water (Aqua), PEG/PPG-18 Dimethicone
Directions for Use
Pump sprayer of Prosthetic Lubricant 2-3 times onto the exposed gel or silicone surface of your prosthetic liner or sleeve to reduce tackiness and ease application. 
Precautions
For external use only. Avoid contact with eyes. If contact occurs, rinse eyes thoroughly with water. If you experience irritation, rinse from skin and discontinue use. Keep out of reach of children. If swallowed, seek medical attention.
Amputee Essentials Prosthetic Lubricant Product Number (SKU)
AERPL12
Returns
If you're not completely satisfied with your Amputee Store purchase, you can return your eligible items within 90 days of the original ship date. Items in new condition (unopened/unworn/unwashed) can be returned for a full product refund less original shipping costs. Please read our complete return policy for further instructions.
Shipping
Prosthetic Lubricant Spray typically ships within 24 hours.
Estimated Product Weight: 1lbs
Product Packaging: Bottle
Customer Reviews & Questions