Amputee Essentials Resilience Prosthetic Salve, Skin Protectant, Spot Relief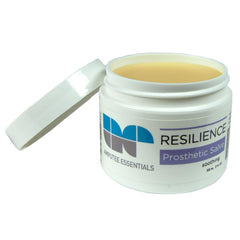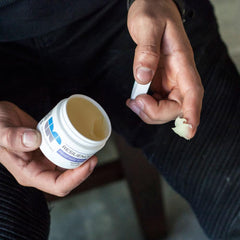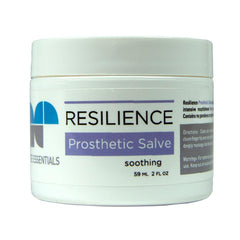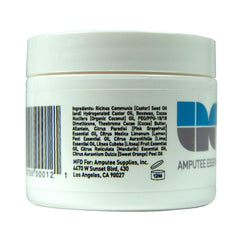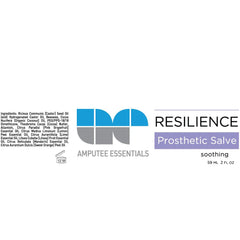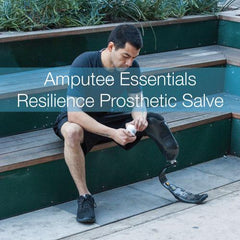 About Prosthetic Salve
Skin-restoring ingredients and proven emollients revive your skin's protective barrier.
Prosthetic Salve offers on-the-spot, targeted relief.
Contains lubricating additives preventing skin cell damage caused by excessive prosthetic socket friction or rubbing.
Conditions skin for more severe issues including Folliculitis, Cellulitis and Boils. 
Contains no parabens or synthetic fragrances.
Safe for all skin types and hypoallergenic.
Citrus Scent
Manufactured in the USA
2 oz (59 ml) Jar
Travel Packets are 15 ml each (Total 45 ml)
Each Travel Packet contains 3-4 uses (Total 9-12 uses)
Sold each
About Prosthetic Salve
Skin-restoring ingredients and proven emollients revive your skin's protective barrier.
Prosthetic Salve offers on-the-spot, targeted relief.
Contains lubricating additives preventing skin cell damage caused by excessive prosthetic socket friction or rubbing.
Conditions skin for more severe issues including Folliculitis, Cellulitis and Boils. 
Contains no parabens or synthetic fragrances.
Safe for all skin types and hypoallergenic.
Citrus Scent
Manufactured in the USA
2 oz (59 ml) Jar
Travel Packets are 15 ml each (Total 45 ml)
Each Travel Packet contains 3-4 uses (Total 9-12 uses)
Sold each
Resilience Prosthetic Salve Description
Amputee Essentials Resilience Prosthetic Salve is a game changing salve that offers on-the-spot, targeted relief for skin grafts, compromised skin, high friction areas, boney prominences--anywhere skin is at risk inside your prosthetic socket. It provides a long-lasting, soothing, protective barrier that's made up of ingredients, which offer disinfectant, fungicidal and healing properties. Designed for amputees, Prosthetic Salve deeply hydrates dry skin while helping defend against prosthetic stressors. Amputee Essentials formulated their prosthetic salve to soothe and protect the skin inside your prosthesis.  Skin-restoring ingredients and proven emollients revive your skin's barrier, leading to healthier more resilient skin. Contains no parabens or synthetic fragrances.
Benefits
Prosthetic Salve is a first line of defense for many amputees attempting to solve everyday amputee life issues from soothing bruises, relieving rashes, and minimizing friction related blisters. Formulated to target and relieve irritated skin, Amputee Essentials' ingredient list includes nourishing Cocoa Butter, Essential Oils and Coconut.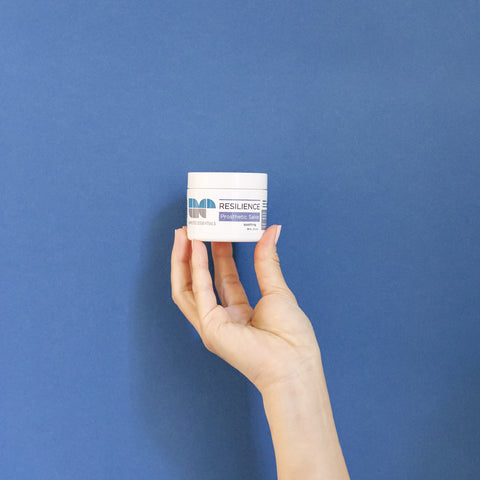 Suggested Use
Resilience Prosthetic Salve is designed for all amputation and skin types.  This product is used by amputees who are experiencing a rash, contact dermatitis or an abrasion. It's compatible with prosthetic locking liners made with mineral oil based gel, urethane and silicone materials. All Prosthetic Salve ingredients are clinically proven safe and effective.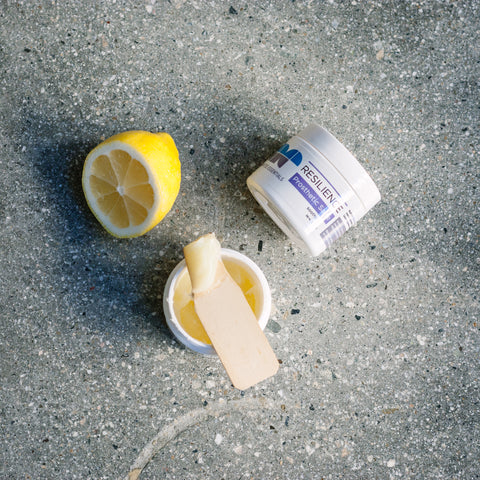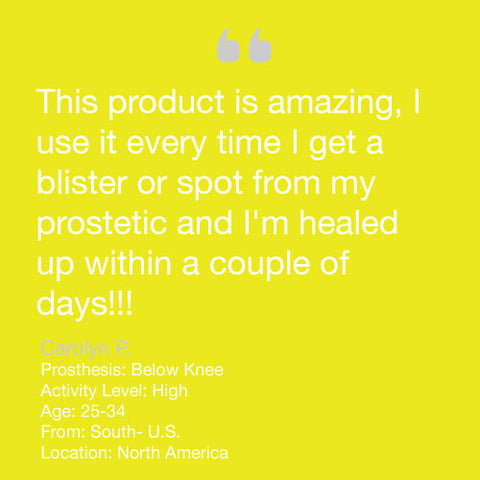 How-to Use
For best results Amputee Essentials suggests cleaning those affected areas with a hypoallergenic prosthetic cleanser and allow your skin to dry.  Apply a liberal layer of Prosthetic Salve using a clean fingertip over any affected areas on your residual limb. No need to deeply massage into the skin. Use as necessary.
Have product questions? We're here to help!
Chat
Features & Details
Resilience Prosthetic Salve Ingredients
Ricinus Communis [Castor] Seed Oil (and) Hydrogenated Castor Oil, Beeswax, Cocos Nucifera [Organic Coconut] Oil, PEG/PPG-18/18 Dimethicone, Theobroma Cacao [Cocoa] Butter, Allantoin, Citrus Paradisi [Pink Grapefruit] Essential Oil, Citrus Medica Limonum [Lemon] Peel Essential Oil, Citrus Aurantifolia [Lime] Essential Oil, Litsea Cubeba [Litsea] Fruit Essential Oil, Citrus Reticulata [Mandarin] Essential Oil, Citrus Aurantium Dulcis [Sweet Orange] Peel Oil
Care Instructions
Store your jar of Prosthetic Salve in a cool dry place. This product expires 12 months after opening. Prosthetic Salve is designed for all amputation and skin types. Safe for use with all silicone and gel prosthetic liners and sleeves. All Prosthetic Salve ingredients are clinically proven safe and effective. When using Prosthetic Salve you will notice that this skincare product will dissolve on contact once applied to those trouble areas to fortify your skin's natural friction fighting defenses.
Precautions
Do not apply over open wounds or infected areas.
Part Numbers (SKUs)
| | |
| --- | --- |
| Size | SKU |
| 2oz | AERSRS2 |
| (3) 15ml | AERPS45 |
Returns
If you're not completely satisfied with your Amputee Store purchase, you can return your eligible items within 90 days of the original ship date. Items in new condition (unopened/unworn/unwashed) can be returned for a full product refund less original shipping costs. Please read our complete return policy for further instructions.
Shipping
Resilience Prosthetic Salve typically ships within 24 hours.
Estimated Product Dimensions (inches): L 2.25 W 2.25 H 2
Estimated Product Weight:.25lbs
Product Packaging: Jar
Customer Reviews & Questions