Amputee Essentials Sleeve Saver (Gaitor), Double Nylon Layer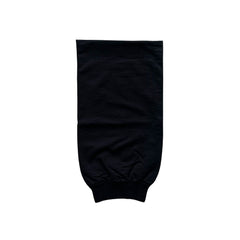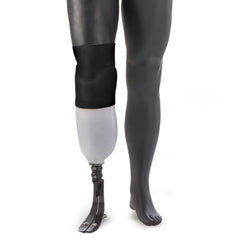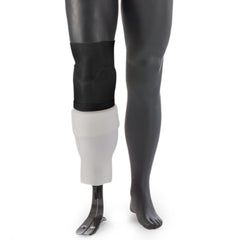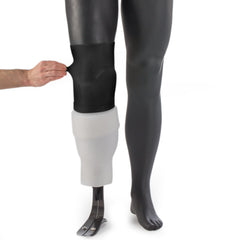 Amputee Essentials Sleeve Saver Description
Amputee Essentials Sleeve Saver is intended to prevent premature failure of B/K (below-the-knee) prosthetic sleeves. Many BK prosthetic sockets are lightweight and thin with socket trimeline edges that can prematurely wear out a prosthetic sleeve. The new Amputee Essentials Sleeve Saver increases the longevity of your prosthetic sleeve by creating a slick barrier between the socket and sleeve.
Benefits
**Fits socket circumferences between 13-18 inches
Prevents premature wear of prosthetic sleeves
100% Nylon Sleeve Saver 
Reduces friction and skin irritation over your kneecap
Saves your prosthetic sleeve from sharp socket trimelines and premature wear
Black color
One universal size
Sold individually in a polybag
Suggested Use
The Sleeve Saver is a simple double layer of nylon that is worn underneath your suspension sleeve and designed as a sleeve protector. When the Sleeve Saver is worn, the inner surface of the prosthetic sleeve is protected from abrasive socket edges.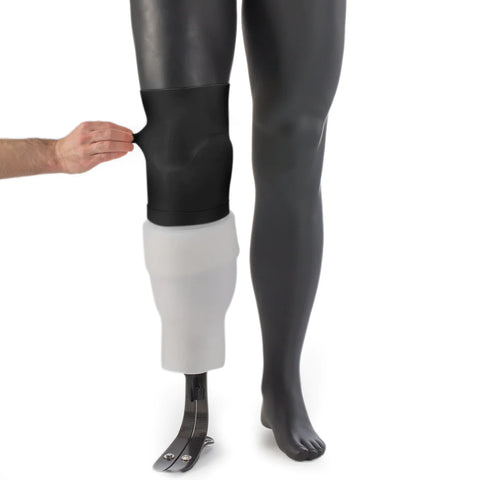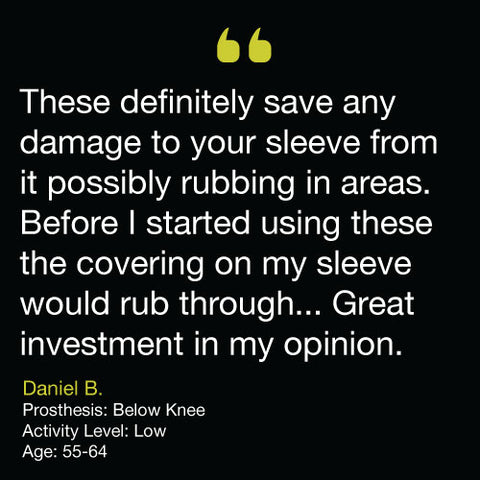 How-to Apply
Apply your sleeve saver over the top of your prosthetic socket; tension band end down. It's important that all socket edges are covered before installing your prosthetic suspension sleeve. Once installed, pull your sleeve saver over your socket timelines and then apply your suspension sleeve over your sleeve saver. The sleeve saver's smooth nylon surface will reduce any friction or sharp prosthetic timelines from prematurely degrading your suspension sleeve.
Have product questions? We're here to help!
Chat
Features & Details
Amputee Essentials Sleeve Saver Materials
100%  Nylon
Care Instructions
Machine wash and tumble dry your Amputee Essentials Sleeve Saver gaitor. No Bleach.
Precautions
Exposing product to velcro can prematurely degrade your sleeve saver.
Part Numbers (SKUs)
AEASAVER
Returns
If you're not completely satisfied with your Amputee Store purchase, you can return your eligible items within 90 days of the original ship date. Items in new condition (unopened/unworn/unwashed) can be returned for a full product refund less original shipping costs. Please read our complete return policy for further instructions.
Shipping
Sleeve Savers typically ships within 24 hours based on stock availability.
Estimated Product Weight: .18lbs
Product Packaging: Polybag
Customer Reviews & Questions