Ottobock Prosthetic Stand Description
Ottobock Prosthetic Liner Drying Stand is the ideal method to allow your expensive prosthetic liners to dry evenly and maintain their shape after each washing. Most prosthetic manufacturers require that you reflect your liner inside out and wash with a pH balanced soap or wipe and then allow to dry on a stand.
Using a Ottobock Liner Drying Stand is the best technique to properly caring for your liner. Employing different methods to dry your liner can be a hassle and achieve poor results. Once you've washed both the inside and outside you can pat dry your liner, however this tends to leave fibers from the towel on the gel surface. Simply placing your liner on towel is not ideal for two reasons. First, your risk coming back to a misshapen liner. And second, often times the liner doesn't dry evenly and may still be wet inside. The alternative is a DIY (Do-It-Yourself) drying liner stand. We've seen amputees use their local hardware store and bolt plumbing to their bathroom sink cabinet door or create a similar drying stand to the Ottobock Liner Drying Stand using plumbing parts. The problem is this DIY approach can be expensive after parts and time consuming.
Benefits
Recommended by prosthetic liner manufacturers
Prosthetic liner stand 3 Piece Design, Easy to dissemble for travel
Some assembly required
Sold each in polybag
20 3/4 inch (52.8 cm) tall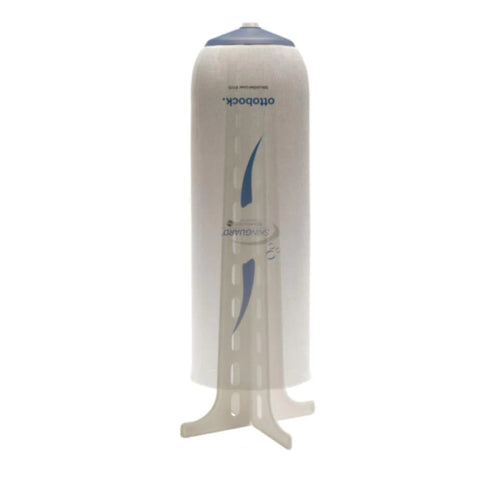 Have product questions? We're here to help!
Chat
Features & Details
Ottobock Prosthetic Liner Stand Material
Thermoplastic
Directions for Use
Reflect your prosthetic liner right side out after washing and place over drying stand. Make sure your drying stand in on a stable surface.
Part Numbers (SKUs)
| | |
| --- | --- |
| Ottobock | SKU |
| Prosthetic Stand | 5Y100=1 |
Returns
If you're not completely satisfied with your Amputee Store purchase, you can return your eligible items within 90 days of the original ship date. Items in new condition (unopened/unworn/unwashed) can be returned for a full product refund less original shipping costs. Please read our complete return policy for further instructions.
Shipping
Ottobock Prosthetic Liner Stand typically ships within 24 hours.
Estimated Product Dimensions (inches): L 21 W 8.375 H 1
Estimated Product Weight:.6lbs
Product Packaging: Polybag
Customer Reviews & Questions