Amputee Essentials Resilience Chafe Barrier Cream, Anti-Friction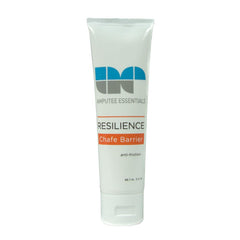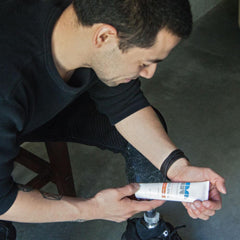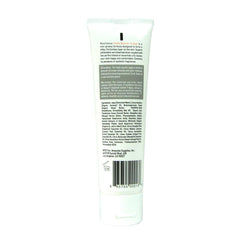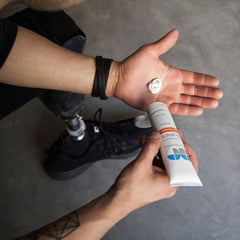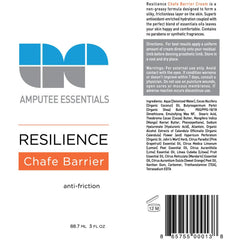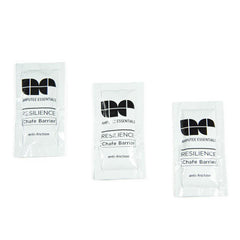 About Chafe Barrier Cream
Resilience Chafe Barrier Cream is non-greasy lubricant barrier that blocks friction.
Chafe Barrier Cream contains shea butter which offers incredible benefits for your skin; think…nutrient filled superfood for your skin!
Contains lubricating additives preventing skin cell damage caused by excessive prosthetic socket friction or rubbing.
Formulated to strengthen your skin and protect its natural oils.
Contains no parabens or synthetic fragrances.
Safe for all skin types.
Manufactured in the USA
Travel Packets are 15 ml each (Total 45 ml)
Each Travel Packet contains 3 uses (Total 9 uses)
3 fl oz (88.7 ml) Tube with flip top
Sold each
About Chafe Barrier Cream
Resilience Chafe Barrier Cream is non-greasy lubricant barrier that blocks friction.
Chafe Barrier Cream contains shea butter which offers incredible benefits for your skin; think…nutrient filled superfood for your skin!
Contains lubricating additives preventing skin cell damage caused by excessive prosthetic socket friction or rubbing.
Formulated to strengthen your skin and protect its natural oils.
Contains no parabens or synthetic fragrances.
Safe for all skin types.
Manufactured in the USA
Travel Packets are 15 ml each (Total 45 ml)
Each Travel Packet contains 3 uses (Total 9 uses)
3 fl oz (88.7 ml) Tube with flip top
Sold each
Resilience Chafe Barrier Cream Description
Amputee Essentials Resilience Chafe Barrier Cream is a non-greasy formula designed to form a silky, frictionless layer on your residual limb. Superb antioxidant-enriched hydration coupled with the perfect blend of essentials oils leaves your skin happy and comfortable. Chafe Barrier Cream contains shea butter that makes this anti-chafing cream incredibly nourishing and moisturizing for your skin. Shea butter aids in the skin's natural collagen production and contains oleic, stearic, palmitic and linolenic acids that protect and nourish your skin to prevent drying. This prosthetic cream contains no parabens or synthetic fragrances.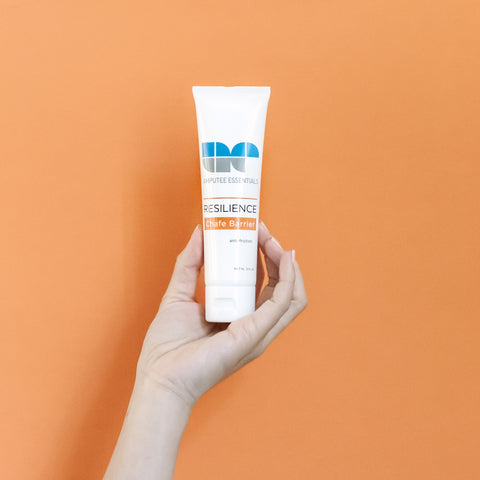 Benefits
Anti-chafing creams are a stable amputee cream in many prosthetic skin care regimens. Chafing creams protect specific zones within your socket from wreaking havoc on your skin. Chafe Barrier Cream is designed to leave a lubricating film intended to neutralize the harsh effects of skin-on-skin or skin-on-prosthesis chafing.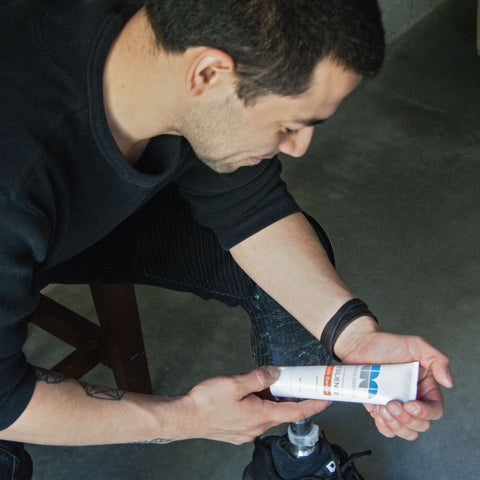 Suggested Use
Chafe Barrier Cream is formulated to protect your skin against chafing, while also providing hydration.  This anti-chafing cream works best along high friction zones, such as the inner brim of an above knee socket or your knee cap to prevent rubbing from a prosthetic sleeve. Chafe Barrier Cream was intended to be used alongside Prosthetic Salve. Many prosthetic users will target irritated skin with Prosthetic Salve, that already has a thin layer of Chafe Barrier cream applied.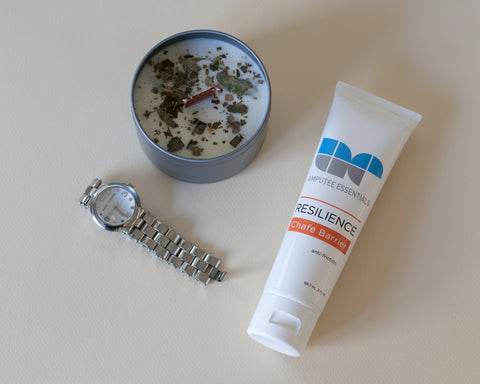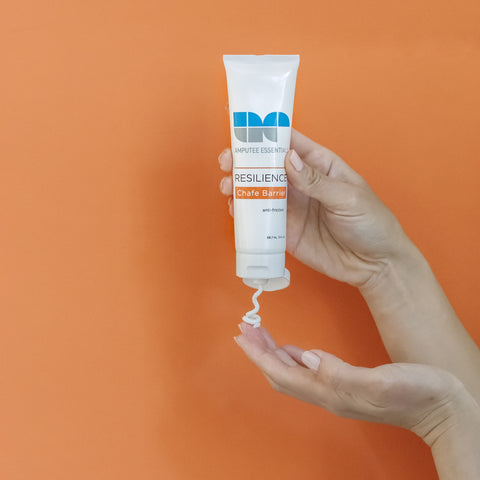 How-to Apply
For best results Amputee Essentials suggests cleaning any affected areas with a hypoallergenic prosthetic cleanser and allow your skin to dry. Apply a light uniform amount of chafe cream directly onto your residual limb before donning prosthetic limb. Store in a cool and dry place.
Have product questions? We're here to help!
Chat
Features & Details
Resilience Chafe Barrier Cream Ingredients
Aqua [Deionized Water], Cocos Nucifera [Organic Coconut] Oil, Butyrospermum Parkii [Organic Shea] Butter, PEG/PPG-18/18 Dimethicone, Emulsifying Wax NF, Stearic Acid, Theobroma Cacao [Cocoa] Butter, Mangifera Indica [Mango] Kernel Butter, Phenoxyethanol, Sodium Hyaluronate [Hyaluronic Acid], Allantoin, Organic Alcohol Extracts of Calendula Officinalis [Organic Calendula] Flower (and) Hypericum Perforatum [Organic St. John's Wort] Herb, Citrus Paradisi [Pink Grapefruit] Essential Oil, Citrus Medica Limonum [Lemon] Peel Essential Oil, Citrus Aurantifolia [Lime] Essential Oil, Litsea Cubeba [Litsea] Fruit Essential Oil, Citrus Reticulata [Mandarin] Essential Oil, Citrus Aurantium Dulcis [Sweet Orange] Peel Oil, Xanthan Gum, Carbomer, Triethanolamine [TEA], Tetrasodium EDTA
Care Instructions
Store your bottle of prosthetic cream in a cool dry place. This product expires 12 months after opening. All Chafe Barrier Cream ingredients are clinically proven safe and effective. When using this amputee cream you will notice that this product will create a thin layer on the surface of your skin, while also supporting those trouble areas to fortify your skin's natural friction fighting defenses.
Precautions
For external use only. Avoid contact with the eyes. If condition worsens or doesn't improve within 7 days, consult a physician. Do not use on puncture wounds, open sores or mucous membranes. If adverse reaction occurs discontinue use. Safe for use with prosthetic liners and sleeves.
Part Numbers (SKUs)
| | |
| --- | --- |
| Size | SKU |
| 3oz Tube | AERCBC3 |
| (3) 15ml Packets | AERCBC45 |
Returns
If you're not completely satisfied with your Amputee Store purchase, you can return your eligible items within 90 days of the original ship date. Items in new condition (unopened/unworn/unwashed) can be returned for a full product refund less original shipping costs. Please read our complete return policy for further instructions.
Shipping
Resilience Chafe Barrier Cream typically ships within 24 hours.
Estimated Product Dimensions (inches): L 6.25 W 2.125 H 1.25
Estimated Product Weight:.25lbs
Product Packaging: Tube
Customer Reviews & Questions