Cotton Stockinette Description
Comfort Products Cotton Stockinette is very high quality cotton stockinette made using only 100% natural cotton. The attention to detail given during every step of the manufacturing process of this Cotton Stockinette explains why many above-knee amputees prefer it for use as a pull sock. If you need quality and value in your cotton stockinette, look no further.
Benefits
25 yd (22.8 m) Cotton Stockinette Roll in a dispenser box
100% Natural Cotton Stockinette
Commonly used as a pull sock for applying Arm or AK prosthetic sockets
Made in the USA
Suggested Use
The most popular width for applying your suction socket using stockinette as a pull sock is six inches. Cotton stockinette makes a great pull sock considering its softness and durability.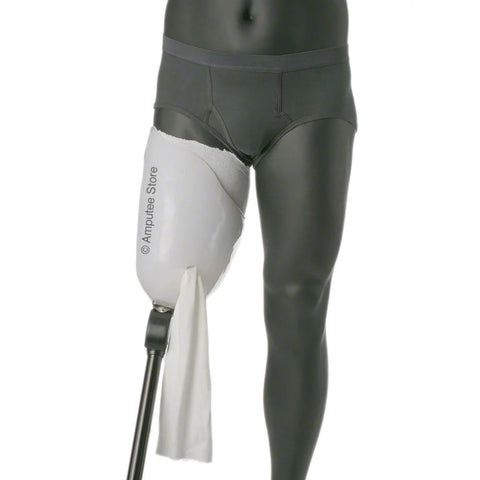 How-to Use
Cut a length of two feet from your stockinette roll. First lightly powder your socket as well as your limb. Feed the end of the stockinette through the valve opening and then place your limb inside the other end of the stockinette. Place your limb (arm or above-knee) inside your prosthesis and begin pulling the stockinette through the valve opening while pumping your limb. Once complete screw in your one-way valve.
Have product questions? We're here to help!
Chat
Features & Details
Cotton Stockinette Roll Materials
100% Natural Cotton
Care Instructions
Machine wash and tumble dry. No Bleach. Bleach will change the color and cause premature fabric failure.
Part Numbers (SKUs)
| | |
| --- | --- |
| Width | SKU |
| 2 inches | SCC2 |
| 4 inches | SCC4 |
| 6 inches | SCC6 |
Returns
If you're not completely satisfied with your Amputee Store purchase, you can return your eligible items within 90 days of the original ship date. Items in new condition (unopened/unworn/unwashed) can be returned for a full product refund less original shipping costs. Please read our complete return policy for further instructions.
Shipping
Cotton Stockinette Roll typically ships within 4 business days.
Product Packaging: Box
Customer Reviews & Questions