Silipos Arm Suspension Sleeve Description
This Silipos Comfortzone Arm Suspension Sleeve is a prosthetic arm sleeve specifically engineered for a Below-the-Elbow Arm Amputee. This is the preferred suspension system for myoelectric arms and cosmetic prostheses. Silipos' patented mineral oil gel creates an adhesion between your arm and prosthesis. The mineral oil gel soothes and protects against abrasions and friction. Silipos Arm Suspension Gel Sleeve fits arm circumference 8 – 13inches.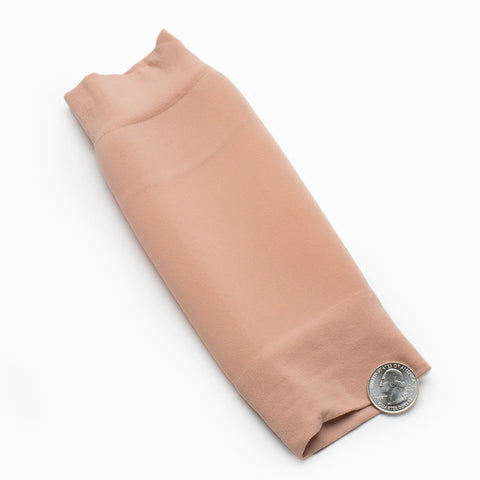 Benefits
Knitted nylon/spandex expansion sleeve coated with mineral oil gel
Silipos Arm Sleeve is perfect suspension system for myoelectric and cosmetic arm prostheses
Easy to use and doesn't impede with elbow movement
Evenly distributes weight between your upper and lower arm
Dermatologist tested, washable and reusable
Easily can be used as a below-the-knee suspension sleeve for children or petite adults
One size fits all, arm circumference approximately 8 – 13in (~20cm – 33cm)
Anatomically tapered sleeve measures approximately 8.5in long
Latex free and hypoallergenic
Beige color
Made in the USA
Sold individually in sealed polybag
Have product questions? We're here to help!
Chat
Features & Details
Silipos Arm Suspension Sleeve Materials
Medical grade mineral oil gel
Directions for Use
Wash and dry your residual limb. To use Silipos Arm Suspension Sleeve, roll the arm sleeve up from the bottom instead of pulling on. Roll the arm sleeve all the way toward the upper arm with gel side in direct contact with the skin. If heat rash occurs, discontinue use immediately.
Care Instructions
Silipos recommends that you hand wash the Arm Suspension Sleeve with mild soap and water. Rinse thoroughly and air dry sleeve for 24 hours and lightly dust gel with talcum powder after drying.
Precautions
Do not place your Silipos Arm Sleeve on an open wound. If irritation, discomfort or poor circulation occurs, discontinue use and notify your physician or Prosthetist immediately. Do not wear your gel arm sleeve for more than 20 hours daily.
Part Numbers (SKUs)
| | |
| --- | --- |
| Size | SKU |
| Silipos Arm Prosthetic Sleeve | 13005 |
Returns
If you're not completely satisfied with your Amputee Store purchase, you can return your eligible items within 90 days of the original ship date. Items in new condition (unopened/unworn/unwashed) can be returned for a full product refund less original shipping costs. Please read our complete return policy for further instructions.
Shipping
Silipos Arm Suspension Sleeve typically ships within 24 hours.
Estimated Product Dimensions (inches): L 4 W 10 H 1.25
Estimated Product Weight:.2lbs
Product Packaging: Polybag
Customer Reviews & Questions