Amputee Essentials Resilience Liquid Powder, Lubricant, Anti-Friction and Chafing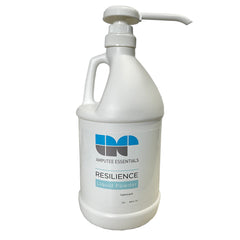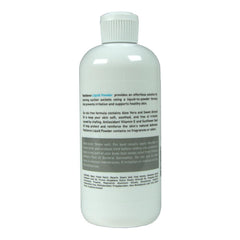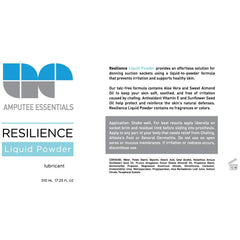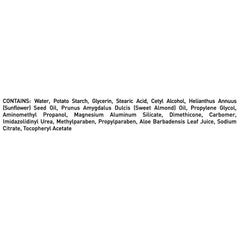 About Resilience Liquid Powder
Gentle technique for effortlessly applying prosthetic suction sockets
No messy airborne powders, body powder lotion easily washes off

Apply after cleansing, as a deodorant or to cool skin and absorb perspiration on hot days.

Liquid powder glides on smooth and sets to a friction-free silky powder finish.
Helps keep you drier and acts as a deodorant
Antioxidant protection for healthy skin
A clean technique for putting on your prosthesis without leaving a powder mess behind you
Resilience Liquid Powder cools and comforts your skin on contact
Aloe Vera and Sweet Almond Oil protect against irritation
New taller squeeze bottle for easier handling
17 fl oz (502.75 ml)
Sold each, 12 bottles/case
Manufactured in the USA
About Resilience Liquid Powder
Gentle technique for effortlessly applying prosthetic suction sockets
No messy airborne powders, body powder lotion easily washes off

Apply after cleansing, as a deodorant or to cool skin and absorb perspiration on hot days.

Liquid powder glides on smooth and sets to a friction-free silky powder finish.
Helps keep you drier and acts as a deodorant
Antioxidant protection for healthy skin
A clean technique for putting on your prosthesis without leaving a powder mess behind you
Resilience Liquid Powder cools and comforts your skin on contact
Aloe Vera and Sweet Almond Oil protect against irritation
New taller squeeze bottle for easier handling
17 fl oz (502.75 ml)
Sold each, 12 bottles/case
Manufactured in the USA
Resilience Liquid Powder Description
Amputee Essentials Resilience Liquid Powder provides an effortless solution for donning prosthetic suction sockets using a liquid-to-powder formula that prevents irritation and supports healthy skin. Prosthetic liquid powder is a great alternative to abrasive pull socks and ace bandage techniques. Described as a "Lotion Wet Fit" prosthetic technique, liquid body powder allows your residual limb to glide easily into your socket while avoiding skin bunching and chafing. Expect your skin to look and feel smooth, without that greasy tacky feeling that a 100% silicone skin lotion leaves behind.
Amputee Essentials' talc-free liquid silk formula is applied as a lotion then transforms into a silky soft protective body powder to keep your residual limb comfortably dry and cool. Aloe Vera and Sweet Almond Oil keep your skin soft, soothed, and free of irritation caused by chafing. Antioxidant Vitamin E and Sunflower Seed Oil help protect and reinforce the skin's natural defenses. Resilience Liquid Powder contains no fragrances or colors and no airborne particles to inhale.
Benefits
Resilience Liquid Powder borrows a few of the benefits from Resilience Chafe Barrier and Ultra-Rich Prosthetic Moisturizer to create a versatile prosthetic liquid body powder product.  Amputee Essentials' product can defend against friction related issues and excessive sweating.  After it dries into a powdery finish, Liquid Powder will absorb excess perspiration and act as a lubricant against "socket rubbing."  While performing double duty you can expect its moisturizing attributes to leave your skin hydrated and healthy.  If you require a more substantial skin protectant you can read about Amputee Essentials Prosthetic Salve.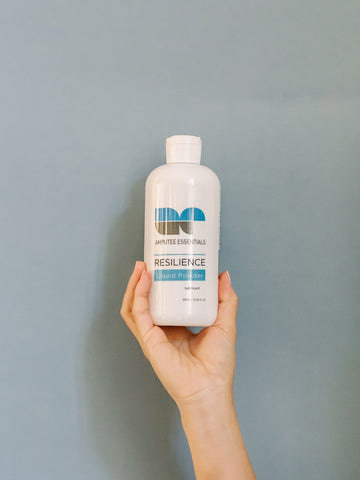 Suggested Use
Liquid Powder was intended for donning suction sockets. However, over the years many amputees have begun using this liquid body powder for other use cases. For example, it works great as a deodorant during the hot summer months, a day time moisturizer and anti-chafing prosthetic lotion. You can use as a body powder lotion on any part of your body that needs relief from Chafing, Athlete's Foot or General Dermatitis.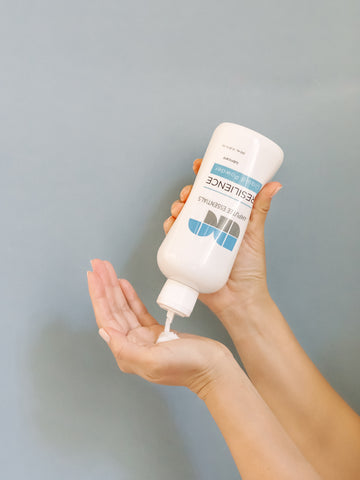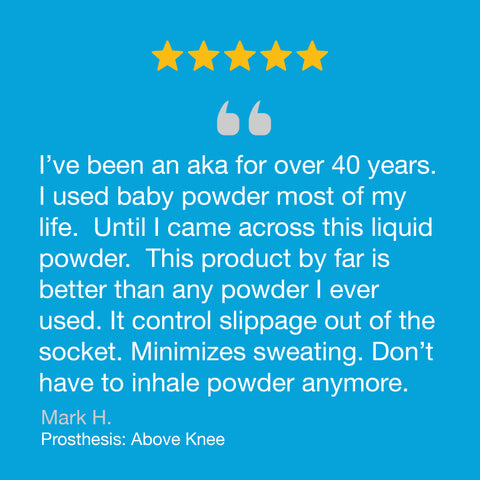 How-to Use
Shake well. For best results apply along the brim of your socket and liberally on your residual limb before applying your prosthesis. Now is the time to slide into your prosthetic leg. Tighten your one-way suction valve and press the button to allow any remaining air to escape. Wait 3 seconds for the liquid to dry into a silk body powder and afterwards you're ready to tackle your day.
Have product questions? We're here to help!
Chat
Features & Details
Resilience Liquid Powder Ingredients
Water, Potato Starch, Glycerin, Stearic Acid, Cetyl Alcohol, Sunflower Seed Oil, Sweet Almond Oil, Propylene Glycol, Aminomethyl Propanol, Magnesium Aluminum Silicate, Dimethicone, Carbomer Imidazolidinyl Urea, Methylparaben, Propylparaben, Aloe Barbadensis Leaf Juice, Sodium Citrate, Tocopheryl Acetate
Care Instructions
Store your bottle of Resilience Liquid Powder in a cool dry place. This product expires 12 months after opening.
Precautions
Do not use liquid body powder on open sores or mucous membranes. If irritation or redness appears, discontinue use.
Returns
If you're not completely satisfied with your Amputee Store purchase, you can return your eligible items within 90 days of the original ship date. Items in new condition (unopened/unworn/unwashed) can be returned for a full product refund less original shipping costs. Please read our complete return policy for further instructions.
Shipping
Resilience Liquid Powder typically ships within 24 hours.
Estimated Product Dimensions (inches): L 6.87 W 2.75 H2.75
Estimated Product Weight:1.5lbs
Product Packaging: Bottle
Customer Reviews & Questions