Amputee Essentials Resilience Aftercare Soothing Gel, Calming Sensation, 4 oz (118 ml) Bottle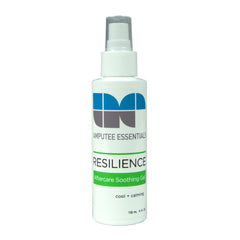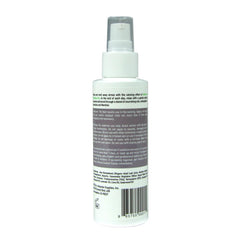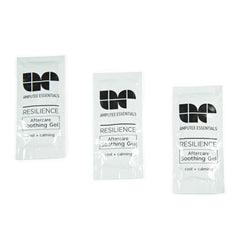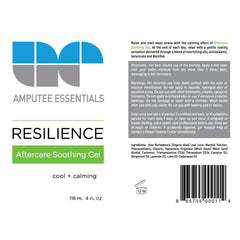 About Aftercare Soothing Gel
Aftercare Soothing Gel provides a gentle cool and calming sensation
Helps melt away stress after a tough day of wearing your prosthesis
Formulated for amputees with sensitive skin who wear a prosthesis
Nourishing oils, antioxidants, botanicals and Menthol help you relax at night.
Naturally scented
Manufactured in the USA
Travel Packets are 15 ml each (Total 45 ml)
Each Travel Packet contains 3 uses (Total 9 uses)
4 oz (118 ml) Bottle with pump top
Sold each
About Aftercare Soothing Gel
Aftercare Soothing Gel provides a gentle cool and calming sensation
Helps melt away stress after a tough day of wearing your prosthesis
Formulated for amputees with sensitive skin who wear a prosthesis
Nourishing oils, antioxidants, botanicals and Menthol help you relax at night.
Naturally scented
Manufactured in the USA
Travel Packets are 15 ml each (Total 45 ml)
Each Travel Packet contains 3 uses (Total 9 uses)
4 oz (118 ml) Bottle with pump top
Sold each
Aftercare Soothing Gel Description
Amputee Essentials Resilience Aftercare Soothing Gel offers relief and relaxation after a long day of wearing your prosthesis. Allow your stress to melt away with the calming effect of Aftercare Soothing Gel. At the end of each day, relax with a gentle cooling sensation delivered through a blend of nourishing oils, antioxidants, botanicals and Menthol. Aftercare Soothing Gel uses natural menthol to decrease inflammation and relieve stress.
Benefits
Aftercare Soothing Gel is formulated with menthol, an ingredient with a characteristically minty smell and cooling sensation.
Menthol does not lower the temperature of your skin. Instead, it produces a cooling effect by blocking the calcium current along the nerves responsible for detecting temperature. The message your nerves will send is that your skin is cooling.
Menthol also has pain-relieving properties when applied topically. It is particularly beneficial in alleviating the pain associated with minor musculoskeletal problems, such as arthritis or muscle cramps.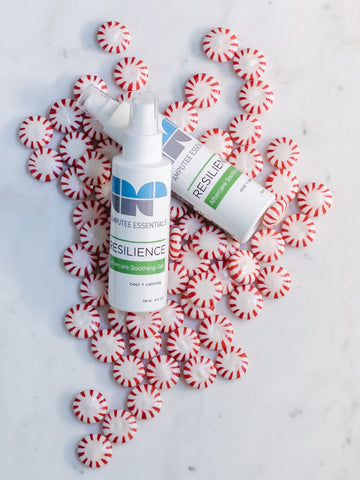 Suggested Use
Aftercare Soothing Gel is used to help calm minor muscle aches and joint pains. Menthol is known as a counterirritant intended to allow your residual limb to relax after a long day of walking or standing.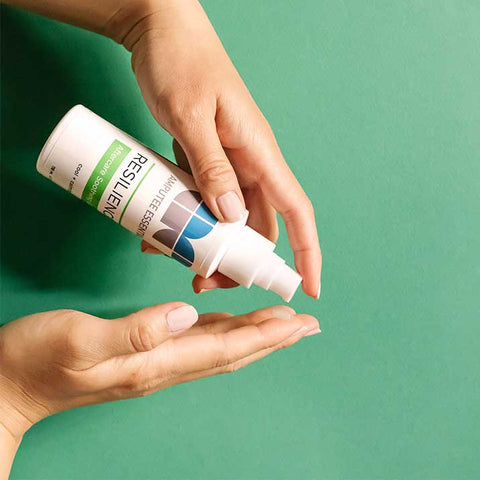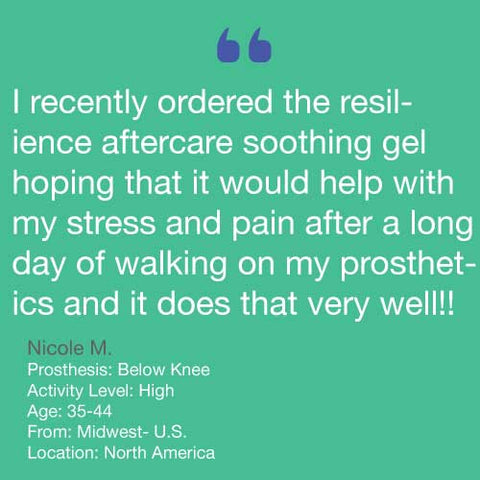 How-to Apply
For best results use in the evening, preferably after bathing. Apply a thin layer over your entire residual limb not more than 3 times daily; massaging is not necessary.
Have product questions? We're here to help!
Chat
Features & Details
Resilience Aftercare Soothing Gel Ingredients
Aloe Barbadensis [Organic Aloe] Leaf Juice, Menthol Solution, Phenoxyethanol, Glycerin, Hamamelis Virginiana [Witch Hazel] Water (and) Alcohol, Carbomer, Triethanolamine [TEA], Tetrasodium EDTA, Camphor EO, Bergamont EO, Lavender EO, Lime EO, Cedarwood EO
Care Instructions
Store your bottle of Aftercare Soothing Gel in a cool dry place. This product expires 12 months after opening.
Precautions
For external use only. Avoid contact with the eyes or mucous membranes. Do not apply to wounds, damaged skin or sensitive areas. Do not use with other ointments, creams, sprays or liniments. Do not apply to irritated skin or use if excessive irritation develops. Do not bandage or cover with a shrinker. Wash hands after use with cool water. Do not use with heating pad or device. Do not use on children younger than 2 years.
Stop using and ask a physician if condition worsens, or if symptoms persist for more than 7 days, or clear up and recur. If pregnant or breast feeding, ask a health care professional before use. Keep out of reach of children. If accidently ingested, get medical help or contact a Poison Control Center immediately.
Part Numbers (SKUs)
| | |
| --- | --- |
| Size | SKU |
| 4oz | AERACSG4 |
| (3) 15ml Packets | AAERACSG45 |
Returns
If you're not completely satisfied with your Amputee Store purchase, you can return your eligible items within 90 days of the original ship date. Items in new condition (unopened/unworn/unwashed) can be returned for a full product refund less original shipping costs. Please read our complete return policy for further instructions.
Shipping
Aftercare Soothing Gel typically ships within 24 hours.
Product Packaging: Bottle with pump
Customer Reviews & Questions