Silipos Distal End Pad, Gel Cushion, 4in (10cm) Diameter, 1/8in (3-4mm) Thick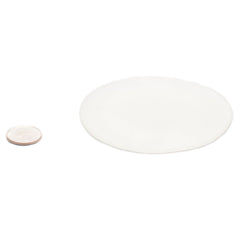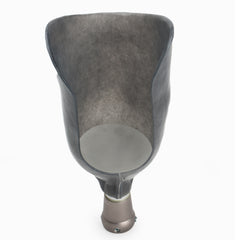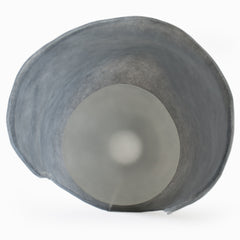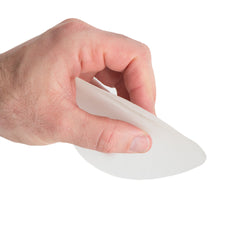 About Silipos Distal End Pad
Distal End Pad provides ultra cushioning to bottom of your limb against shock from stepping off a curb
Cost effective and light weight gel solution that can be combined with other prosthetic products such as socks, leather, foam, gel liners and sheaths
Distal End Pad reduces abrasion while moisturizing and conditioning your limb
Great for new amputees who loose volume and length from shrinkage and limb maturation
Grab a scissors and customize to shape your end pad
Approximately 1/8in (3-4mm) thick and 4in (10cm) in diameter
Edge is beveled for exceptional prosthetic user comfort and skin protection
Dermatologist tested, hypoallergenic, washable and reusable
Made in the USA
Sold individually in a sealed polybag
About Silipos Distal End Pad
Distal End Pad provides ultra cushioning to bottom of your limb against shock from stepping off a curb
Cost effective and light weight gel solution that can be combined with other prosthetic products such as socks, leather, foam, gel liners and sheaths
Distal End Pad reduces abrasion while moisturizing and conditioning your limb
Great for new amputees who loose volume and length from shrinkage and limb maturation
Grab a scissors and customize to shape your end pad
Approximately 1/8in (3-4mm) thick and 4in (10cm) in diameter
Edge is beveled for exceptional prosthetic user comfort and skin protection
Dermatologist tested, hypoallergenic, washable and reusable
Made in the USA
Sold individually in a sealed polybag
Silipos Distal End Pad Description
The Silipos Distal End Pad is a gel solution intended to be placed in the bottom of your prosthetic socket to provide shock absorption and friction relief. The Distal End Pad is made with Silipos' medical grade mineral oil providing pressure and abrasion relief. Any amputation level can use these gel end pads. Above and below knee amputees can place a gel distal end pad along the bottom of socket. Prosthetic users can add a pad to their morning sock or liner regimen. Prior to adding your prosthetic socks or liner you can first place a Silipos Distal End Pad onto the bottom of your limb and then pull up your amputee socks or roll on your prosthetic liner. If you are using a foam liner you can test adding a gel pad to the bottom for extra cushion and help prevent socket pistoning.
Benefits
Distal End Pad provides ultra cushioning to bottom of your limb against shock from stepping off a curb
Cost effective and light weight gel solution that can be combined with other prosthetic products such as socks, leather, foam, gel liners and sheaths
Distal End Pad reduces abrasion while moisturizing and conditioning your limb
Great for new amputees who loose volume and length from shrinkage and limb maturation
Grab a scissors and customize to shape your end pad
Approximately 1/8in (3-4mm) thick and 4in (10cm) in diameter
Edge is beveled for exceptional prosthetic user comfort and skin protection
Dermatologist tested, hypoallergenic, washable and reusable
Made in the USA
Sold individually in a sealed polybag
Have product questions? We're here to help!
Chat
Features & Details
Silipos Distal End Pad Materials
Silipos medical grade mineral oil
Directions for Use
Wash and dry your residual limb. Place a Silipos Silopad Double Layer Distal End Pad at the bottom end of your prosthetic socket of either a prosthesis or amputated limb. Silipos Distal End Pad may be cut or trimmed to desired size to fit a prosthetic socket.
Care Instructions
Silipos recommends that you had wash your Silipos Distal End Pad with mild soap and water. Rinse thoroughly. Pat off excess water and lay flat to completely air dry. Lightly dust gel with talcum powder after drying to decrease tackiness of the Silipos Distal End Pad.
Precautions
Do not place a Silipos Distal End Pad on an open wound. If irritation, discomfort, or poor circulation occurs, discontinue use and notify your physician or Prosthetist immediately. Do not wear your Silipos Distal End Pad for more than 20 hours daily.
Part Numbers (SKUs)
| | |
| --- | --- |
| Silipos | SKU |
| Distal Pad | 12005 |
Returns
If you're not completely satisfied with your Amputee Store purchase, you can return your eligible items within 90 days of the original ship date. Items in new condition (unopened/unworn/unwashed) can be returned for a full product refund less original shipping costs. Please read our complete return policy for further instructions.
Shipping
Silipos Distal End Pad typically ships within 24 hours.
Estimated Product Dimensions (inches): L 7 W 5 H 0.375
Estimated Product Weight:.14lbs
Product Packaging: Polybag
Customer Reviews & Questions