Ossur Genu Prosthetic Sleeve with Protector Sleeve, Air Tight Suspension, Vacuum Approved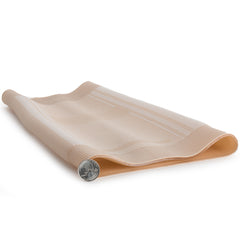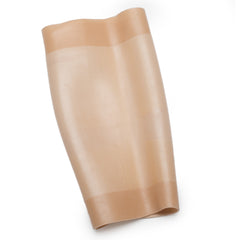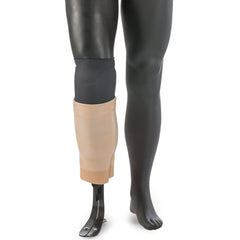 Ossur Genu Prosthetic Sleeve Description
The Ossur Genu Sleeve is a TPE gel prosthetic sleeve with a fabric covering is intended for moderate to active below-knee prosthetic users. Ossur Genu sleeves gel surface is softer than silicone and provides optimal skin adhesion and sealing that you would expect from a high end suspension sleeve. TPE gel typically is gentler on your skin in comparison to other materials. In an effort to balance function and durability Ossur decided to include with every Genu Sleeve a free sleeve protector. Thanks to the special Ossur round-knit technology the Ossur Genu Sleeve kneecap is seamless and extremely flexible. This permits your prosthetic sleeve to contour to your thigh and prosthesis and guarantees a virtually wrinkle-free fit. The special gel coating on the inside ensures an air-tight lock between the socket and skin, creating a secure feeling.
Benefits
Genu Sleeve is designed for Moderate to High Activity prosthetic users
Works with Elevated Vacuum Systems
Ossur's round-knit technology allows for contouring virtually wrinkle-free fit
Optimal Adhesion for great suspension
Longitudinal-knit cuff allows generous radial stretch for a secure and comfortable fit
Free Ossur Sleeve Protector included with Genu sleeve
Flexible knit and thin coating translates to high freedom of movement
Smooth outer textile slides easily against itself for simple on/off
Easy installation onto your prosthesis
Sold individually
Have product questions? We're here to help!
Chat
Features & Details
Ossur Genu Sleeve Materials
TPE Gel with knit fabric cover
Care Instructions
The Ossur Prosthetic Genu Sleeve should be washed with neutral soap. To do this turn the Ossur Genu Sleeve inside thoroughly and clean with a neutral soap, rinse with plenty of cold water, and dry off any surplus water with a lint-free cloth. The outside of the Ossur Genu Prosthetic Sleeve can be cleaned with a damp cloth.
Precautions
Please note that many shower gels, soaps, bath additives, deodorants, perfumes, alcohol sprays etc. can cause skin irritation. In order to prevent possible problems please do not use such articles when using the Ossur Genu Sleeve. Ossur suggests replacing your Ossur Genu Sleeve every three to six months.
Part Numbers (SKUs)
| | |
| --- | --- |
| Size | SKU |
| Small | MK00202 |
| Medium | MK00203 |
| Large | MK00204 |
Returns
If you're not completely satisfied with your Amputee Store purchase, you can return your eligible items within 90 days of the original ship date. Items in new condition (unopened/unworn/unwashed) can be returned for a full product refund less original shipping costs. Please read our complete return policy for further instructions.
Shipping
Ossur Genu Sleeve typically ships within 4 business days.
Product Packaging: Box
Customer Reviews & Questions