Juzo Dynamic Varin Soft-In AK Shrinker with Hip Band, 20-30 mmHg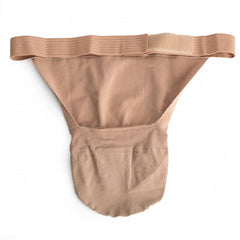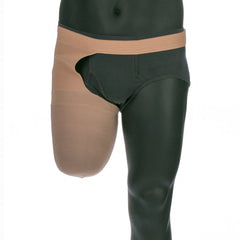 Juzo AK Prosthetic Shrinker Description
Juzo Prosthetic Above Knee shrinker can be used as a substitute for bandaging or figure 8 wrapping and is designed to control swelling after an amputation. It's not uncommon post amputation surgery to place a Juzo Prosthetic Shrinker over gauze bandages covering your suture line. Prosthetic shrinkers are commonly used in "limb maturation" and can be considered yet another tool to minimize phantom pain. Juzo AK shrinker has two-way stretch elasticity that provides excellent fit and natural freedom of movement. Juzo AK Prosthetic Shrinkers are fairly smooth inside reducing any discomfort when applying this shrinker to overly sensitive recent amputations. To prevent snags when applying your shrinker, use a fitting lotion.  Made of synthetic elastomers, this judo shrinker is resistant to sun, ointments, lotions and perspiration.
Benefits
Juzo AK shrinker with smooth interior for sensitive, post-operative above knee amputees
Stay-put band with silicone border
Juzo two-way stretch elasticity that provides excellent fit and natural freedom of movement
Juzo AK Shrinker comes hip attachment belt to prevent sliding off when sleeping
20-30mmHg compression 
Fits either Left or Right Above Knee amputees
Sold individually in a polybag
Have product questions? We're here to help!
Chat
Features & Details
Juzo Ak Shrinker Materials
Polyamide and Elastane
Directions for Use
Juzo recommends that you consult with your Prosthetist for proper guidelines on the use and application of this product. As therapy progresses or new symptoms develop, it may be necessary to take new measurements for a new smaller shrinker. First, turn the shrinker inside out, except for its end part. Second, take the shrinker, folded over itself, in both hands and slip it over your residual limb. Third, turn your juzo shinker back and pull it evenly over your limb. Now work the whole shrinker gradually upwards, smoothing out any wrinkles, with the palm of your hand. Important, never pull at the upper edge of your prosthetic juzo shinker.
Care Instructions
Juzo recommends hand or machine wash warm daily to maximize therapeutic effectiveness and prolong the life of your Juzo AK Prosthetic Shrinker. When machine washing and drying, use the lowest permanent press settings. Do not use bleach, chlorine, fabric softeners or any other laundry additives.
Returns
If you're not completely satisfied with your Amputee Store purchase, you can return your eligible items within 90 days of the original ship date. Items in new condition (unopened/unworn/unwashed) can be returned for a full product refund less original shipping costs. Please read our complete return policy for further instructions.
Customer Reviews & Questions