Dry-Lite Amputee Lubricant, Anti-Friction Lotion, 16 oz Bottle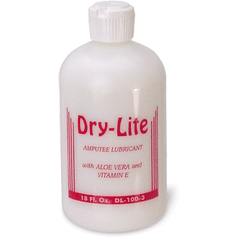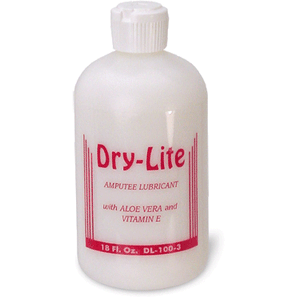 Roll over image to zoom in
Dry-Lite Amputee Lubricant Description
Dry Lite Amputee Lubricant is a rich, soothing amputee lotion that dries to a smooth, friction-reducing powder. Dry Lite Amputee Lubricant is an excellent prosthetic lubricant for placing your above knee limb into a prosthetic socket without using pull socks or similar donning sheaths. This method has been termed a lotion prosthetic socket fit.
Many leg amputees began to learn that the success of an adequate suction suspension did not mean they had to rely on only two methods of donning their prosthetic devices. Suction suspension is dependent on compression of your residual limb. This tissue compression is what requires the use of a pull sock to overcome the friction that results from an interference type of fit. The main reason to use a pull sock is to overcome friction associated with dry donning. Amputees began to realize that lubrication on their skin would allow the residual limb to more easily and quickly slide into the proper interference fit without the use of a tube sock or bandage wrap. The lubrication medium such as DryLite Amputee Lubricant reduces this pull.
Benefits
**Similar to Amputee Essentials Liquid Body Powder
No messy airborne powders, easily washes off
Sets to a friction-free silky powder finish.
Aloe Vera and Sweet Almond Oil protect against irritation
16 Fl Oz Squeeze Bottle, Sold each
Have product questions? We're here to help!
Chat
Features & Details
Dry-Lite Amputee Lubricant Ingredients
Water, Potato Starch, Glycerin, Stearic Acid, Cetyl Alcohol, Sunflower Seed Oil, Sweet Almond Oil, Propylene Glycol, Aminomethyl Propanol, Magnesium Aluminum Silicate, Dimethicone, Carbomer Imidazolidinyl Urea, Methylparaben, Propylparaben, Aloe Barbadensis Leaf Juice, Sodium Citrate, Tocopheryl Acetate
Directions for Use
Shake Dry-Lite Lotion well. For best results apply along the brim of the socket and liberally on your residual limb before applying your prosthesis. Now is the time tighten the suction valve and press the button to allow any remaining air to escape. Wait 3 seconds for the liquid to dry and then you're ready to tackle your day. Use as a body powder lotion on any part of your body that needs relief from Chafing, Athlete's Foot or General Dermatitis.
Care Instructions
Store your bottle of Dry-Lite in a cool dry place. This product expires 12 months after opening.
Precautions
Do not use Dry Lite on open sores or mucous membranes. If irritation or redness appears, discontinue use.
Part Numbers (SKUs)
| | |
| --- | --- |
| Size | SKU |
| 16oz Bottle | DL1003 9110 |
Returns
If you're not completely satisfied with your Amputee Store purchase, you can return your eligible items within 90 days of the original ship date. Items in new condition (unopened/unworn/unwashed) can be returned for a full product refund less original shipping costs. Please read our complete return policy for further instructions.
Shipping
Dry-Lite Lotion typically ships within 24 hours.
Estimated Product Dimensions (inches): L 6.25 W 3 H 3
Estimated Product Weight: 1.5lbs
Product Packaging: Bottle
Customer Reviews & Questions