Amputee Essentials Ampu-Balm Prosthetic Balm, Skin Protectant, 2 oz (56.7 g) Chafe Stick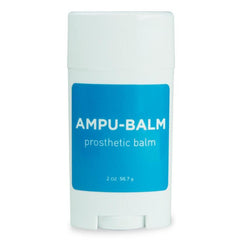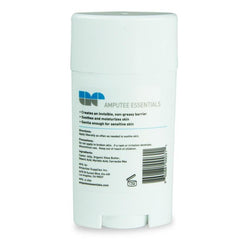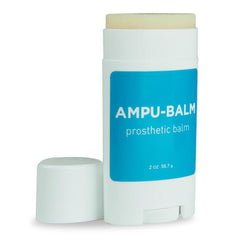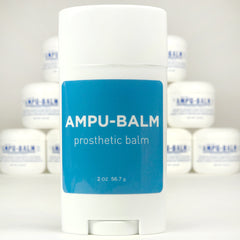 About Ampu-Balm
Revised and improved Ampu-Balm formula
No old school ingredients that just sit on the top of your skin, slide around and require frequent reapplication.
Plant derived ingredients and no petroleum, no lanolin, no mineral or vegetable oils
The preferred prosthetic balm option over messy and wet creams and silicone lotions
Allows skin to breathe while guarding against rashes, dryness, and wetness
Ampu-Balm is long lasting and penetrates your skin to lubricate and moisturize
Easy and mess free chafe stick packaging 
Non-oily and non-greasy formula that glides on from a stick and is rub proof
Contains no water and no animal products
2oz Chafe Stick
About Ampu-Balm
Revised and improved Ampu-Balm formula
No old school ingredients that just sit on the top of your skin, slide around and require frequent reapplication.
Plant derived ingredients and no petroleum, no lanolin, no mineral or vegetable oils
The preferred prosthetic balm option over messy and wet creams and silicone lotions
Allows skin to breathe while guarding against rashes, dryness, and wetness
Ampu-Balm is long lasting and penetrates your skin to lubricate and moisturize
Easy and mess free chafe stick packaging 
Non-oily and non-greasy formula that glides on from a stick and is rub proof
Contains no water and no animal products
2oz Chafe Stick
Ampu-Balm Description
The new Amputee Essentials Ampu-Balmtm improves upon an already potent and decades old formula in the prevention of chafing and chafing related skin issues.  Ampu-Balmtm new and improved formula removes that all too familiar obnoxious smell of the old formula. Don't expect to find petroleum, lanolin, or mineral oils in this new formula. These ingredients tend to sit on the skin and require frequent reapplication. Instead your skin will enjoy plant derived ingredients that are laboratory tested, hypoallergenic and safe for sensitive skin.
About The Brand
Amputee Essentials began with a commitment to customer advocacy and education, and that remains a core element of their philosophy and product development. They understand the need for prosthetic supplies to over-deliver on promises. Products you can feel confident about buying and using. The search for amazing prosthetic products and skincare ends here.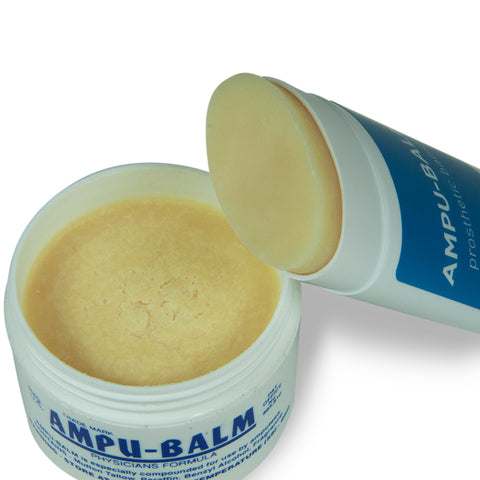 Suggested Use
Ampu-Balmtmis a great prosthetic balm for managing prosthetic related skin issues.  Apply Ampu-Balmtm using its convenient and travel friendly chafe stick applicator to evenly apply long lasting and effective protection. Use Ampu-Balmtm before you apply your prosthesis to any areas where rubbing occurs.  Stop chafing before it starts and use Ampu-Balmtm on your thighs, neck, arms or any where else rubbing occurs.  Avoid any messy cleanup before putting on your prosthesis.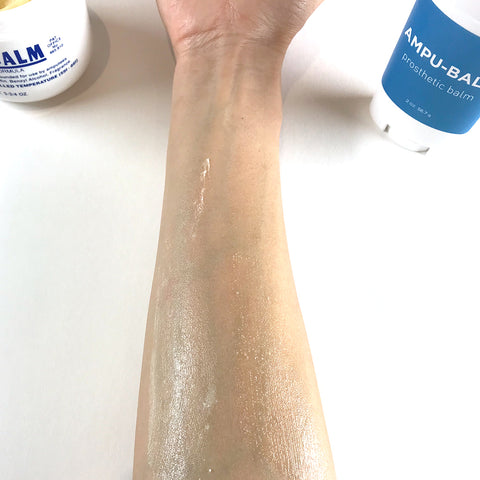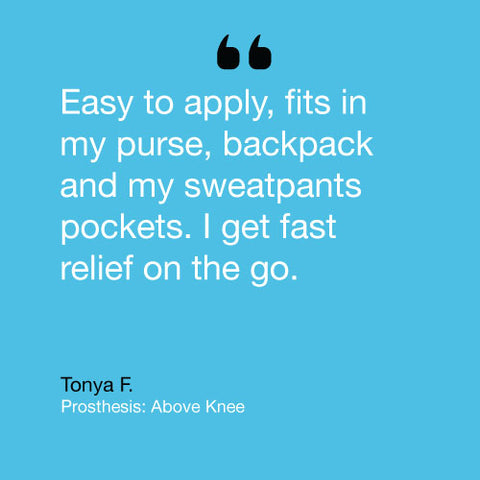 How-to Apply
Here are some areas where Ampu-balmtmcan really help:
Inner thigh to prevent rubbing along the brim of your above-knee socket
Knee cap to avoid irritation from prosthetic sleeves and liners
Apply a thin film underneath the top edge of your prosthetic liner or sleeve
Use over any boney prominences that experience friction
Have product questions? We're here to help!
Chat
Features & Details
Amputee Essentials Ampu-Balm Ingredients
Castor Jelly, Organic Shea Butter, Stearic Acid, Myristic Acid, Carnauba Wax
Care Instructions
Store your stick of Ampu-Balm in a cool dry place. This product expires 12 months after opening. Ampu-Balm is designed for all amputation and skin types. All Ampu-Balm ingredients are clinically proven safe and effective. When using Ampu-Balm you will notice that this product will dissolve on contact once applied to those trouble areas to fortify your skin's natural friction fighting defenses.Safe for use with gel and silicone sleeves.
Precautions
Do not apply Ampu-Balm to broken skin. If a rash or irritation develops, discontinue use. Do not apply over open wounds or infected areas.
Part Numbers (SKUs)
| | |
| --- | --- |
| Size | SKU |
| 2oz Chafe Stick | AEAB-582001 |
Returns
If you're not completely satisfied with your Amputee Store purchase, you can return your eligible items within 90 days of the original ship date. Items in new condition (unopened/unworn/unwashed) can be returned for a full product refund less original shipping costs. Please read our complete return policy for further instructions.
Shipping
Amputee Essentials Ampu-Balm typically ships within 24 hours.
Estimated Product Dimensions: 4.5 L 2.125 W 1.25 H
Estimated Product Weight:.25lb
Product Packaging: Deodorant Stick
Customer Reviews & Questions